Computer Hardware Training in Sharjah -Classroom & Online Training
Computer Hardware Training is actually a Fully focused hands on training to work with  computer systems The Computer Hardware course in Sharjah offered  at Rolla Academy is designed to work with both hardware and operating systems . It gives you the essential knowledge and  practical skills required to help you get a successful entry in the field of computer science and technology. Get training from professionals with 30+ years of field experience with hands on practical learning approach.
Master this Computer Hardware Course and build your future as an IT Professional
The Computer Hardware Training in Sharjah is designed according to the industry standards and the curriculum created by industry experts.
Computer Hardware Course - Overview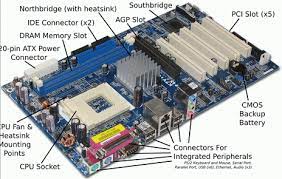 It is an interesting area of information technology and students are actually being introduced to this field starting here.
This course covers essential physical components used in modern PC's such as monitors, keyboards, mouse, storage devices, sound cards, graphic cards, motherboard and other important components which you will learn in depth after enrolling for the training. You will also learn to assemble these parts correctly, install and support computer hardware, repair and troubleshoot issues when they occur with the parts. Rolla Academy offers computer hardware courses to students with training from professional trainers with over 30+ years of experience in the field. As a practical course, the focus is to impart useful skills with students to enhance ability to install, troubleshoot, repair and maintain computer systems.    
TARGET AUDIENCE:
This course is highly suggested for the following groups:
Students who have completed secondary, higher secondary or college education.
Computer Engineering and Computer Science graduates who require firm understanding of Computer Hardware and its practical working.
Anyone passionate to learn Computer Hardware from scratch.
Bilal Ahmad
21. November, 2021.
It is an excellent place to improve every type of Training in computer and languages. I got 7 bands in General IELTS . Thanks to Sir Saeed Ahmad's efforts . My result for IELTS was in summer . I feel a great a pleasure to express my respect to institute and trainer Sir Saeed Ahmad.
shasna k
10. November, 2021.
Thank you Rolla academy to make me an expert in autocad software.All your sessions was easy to learn and understand.
Sonia Bohr
10. November, 2021.
Hi My name is Sonia I am from Gujrat India. This is the best Institute for IELTS. Some one suggested me and it was close to my apartment in Ajman. I got admission in the year of October 2019 for General IELTS . I wanted to acquire 7 Bands or 6.5 bands for New Zealand as I wanted to settle there with my family.I completed my modules and here Saeed Ahmad Sir guided me a lot. After some months there started CORONA and I had to wait for many months even after completing the course in the Institute. The Institute was closed and I felt I might forget the practice but Sir Saeed already told a way to continue practice at home in 'Lockdown Time' .I am happy that I got 7.5 Bands.I am in New Zealand now. I feel a pleasure to express my views about the Institute and its staff.
Raj Kumar
9. November, 2021.
My name is Raj Kumar. Right now I am in Canada. Rolla Institute is the best place for IELTS. I got admission in this institute June 2021. I wanted to get 7.5 Bands in Academic IELTS. It seemed very difficult for me to ever achieve as I thought my previous result of University exam was always low in English. But I am really thankful to Sir Saeed Ahmad that he taught me with full attention and with proper understanding of teaching strategy that I got my 7.5 bands in Academic IELTS . Now I have got admission in a Canadian University.THANK
Mansoor Khan
25. October, 2021.
I searched on internet in Sharja. I found this institute I made a visit to this institute for Computer and English Language Training. I am greatly satisfied with institute. Here Saeed Sir teaches us English. He is very cooperative with us.I like the institute.
saba hashmi
25. October, 2021.
I'm saba hashmi, I completed here MS office course.they have nice and flexible study hours and very competent instructors. Mr Nisar and Mr Ali are such a professional and nice instructors.
Sooraj k nair
22. October, 2021.
The classes were good and the teacher Mr nisar has indept knowledge about the subjects and his teaching abilities are exquisite. I completed Ms Office under his guidance at rolla Institute.
محمد الحالمي
21. October, 2021.
A wonderful institute that taught me a lot of programs. Thank you to all the staff working on it Many thanks to the professor for teaching me the computer, and many thanks to the professor, Mr. Ahmed, who taught me English, and I became fluent and professional in English, even a computer
Md Parves
20. October, 2021.
I went to Rolla Academy to learn English by searching on Google, from where I was able to learn very good English.I have improved a lot in speaking, writing, listening and reading English. Thanks to Rolla Academy.. Special Thanks to my teacher,, He teaches me in a very good way.. " SAEED SIR " thank you so much... 🤗🤗♥
Computer Hardware Course -FAQ'S
Live online Instructor Led Training